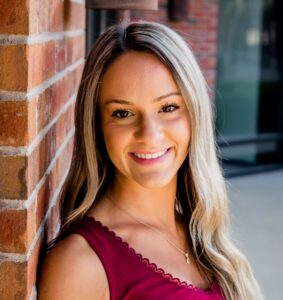 Makayla Colorado
Account Coordinator
Makayla joined the Edge Insurance Group team in early 2019 to learn all that is involved to support clients in the day to day management of their employee benefit program.  In her current role, Makayla is helping clients through enrollment as well as payroll deduction and membership and billing audits for many of our Edge Insurance Group clients.  In addition, Makayla is involved in quoting, generating client proposals and preparing open enrollment materials as well as being the voice of Edge Insurance Group while answering incoming phone calls.
Makayla brings a thoughtful, calm, detailed demeaner to the Edge insurance Group team and is appreciated by staff and clients alike.
Outside of Edge Insurance Group, Makayla enjoys attending church and spending time with friends and her dog Scarlett.  Makayla loves summer and going to the beach and her favorite form of exercise is dance.  In addition to her role at Edge Insurance Group, she is also an active member of the Grand Rapids Drive dance team.