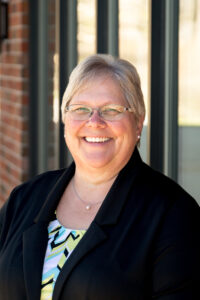 Amie Post
Account Manager
24 Years of Human Resource Management experience
Over 2 Years of group insurance industry experience
Member of SHRM since 1997 and the Greater Lansing SHRM since 2018
20+ Years of group benefits management experience with focus on plan design, funding and compliance
Experienced with payroll and payroll vendors
Amie joined the Edge Insurance Group team as an Account Manager in July 2021 after 24 years in Human Resource Management for two large Michigan based employers.  Amie's vast experience in the human resources side of things translates well to her role at Edge Insurance Group as an Account Manager.  Amie brings exposure to human resource management, employee benefits plan design, employee relations, compliance and payroll management.  Amie's even keeled personality and empathetic style is appreciated by those she helps through any situation.
In her role as an Edge Insurance Group Account Manager, Amie works with clients and their employees to get the most out of their group insurance plans.  Amie is an integral part of the annual renewal process, new plan implementation and the primary day-to-day contact for claims, eligibility and billing problem resolution for her client base.
Amie is the proud mother of her daughter Kelbie.  Amie lives in the mid-Michigan area with her husband Gary and enjoys sewing alterations to bridal gowns and bridal party dresses, camping with family, kayaking and attending any motor sport event.