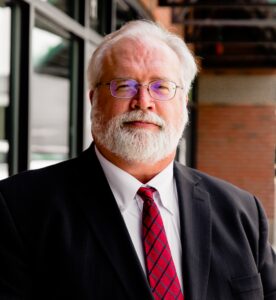 J. Robert Hicks
Director of Underwriting and Analytics
Over 30 Years of group insurance industry experience
BS Business Administration/Accounting, Aquinas College
Licensed Life and Health Agent – Multistate
Robert brings a strong combination of group benefits underwriting experience, plan utilization analytics and stop loss knowledge to the Edge Insurance Group team.  In his role as Director of Underwriting and Analytics Robert is responsible for all of the customized financial reporting packages produced for Edge Insurance Group clients.  In addition, Robert will continually analyze plan utilization and claims trends to help clients minimize plan cost increases through thoughtful plan design management and implementation of sound benefit strategies.  All the while, monitoring the plan to gauge actual results versus the targeted outcome.
In addition to his plan performance and renewal underwriting responsibilities, Robert assists clients and internal Edge Insurance Group Account Managers with annual ACA Reporting, plan benchmarking and stop loss claim review and coordination.
Prior to joining Edge Insurance Group Robert gained experience in this profession by spending time as an underwriter with one of Michigan's largest insurers, working as a Financial Analyst for one of Michigan's largest employee benefits agencies and then managing Business Development and Financial Analytics for a leading Michigan Third Party Administrator.
Outside of work, Robert enjoys spending time with his daughter Lauren and helping to grow the sport he loves by acting as District Umpire-In-Chief for USA Softball, Michigan Association.